Welcome to Giarina Suites!
Two marvelous and cozy suites few minutes from the heart of Verona.
Giarina Suites comes from the idea of ​​ Architect Leonardo Clementi after exercising 50 years of honorable profession, decided to make available the premises of his architectural firm to host tourists who wants to visit Verona from all over the world.
The young white boy in the entrance is Engineer Aurelio Clementi the great grandfather of the grandfather of Architect Leonardo when he was 12 years old in 1848. Next to him you'll find the certificate of his graduation he took some years later in 1859. He is where all started and he is where your stay will start.
Giarina Suites name comes from "Giardini della Giarina", the gardens nearby you will pass going towards Roman Teather and Ponte Pietra.
Suite S.Maria (48 sqm - 3/4 people)
S.Maria Suite has a large living room of 23 sqm with large square table suitable for lunch for 4.
A Sofa Bed (120cm) can easily accommodate 1 person or 2 if they love each other.
Using a ladder you reach the loft (11 sqm) with the master bedroom.
A small private kitchen (10 sqm) complete the suite. From the kitchen you enter in a small storage room and bathroom (3,5 sqm), with shower, toilet, bidet and electric hair dryer.
Suite Isolo (38 sqm - 3/4 people)
Isolo Suite is a private accommodation comprises a living room of 20 sqm furnished with a sofa bed (120 cm), convenient for a person, a bit 'less for two.
Private bathroom (5 sqm) with sink, shower, toilet and bidet and a hairdryer.
With a staircase you can reach the loft of about 13sqm with the master bedroom.
Isolo Suite has a beautiful view on a small part of Torricelle hills around Verona.
Both Suites are provided by:

• Free High Speed Internet Wi-Fi (48Mb download - 10Mb Upload)
• Personal Heating
• Personal Air Conditioning
• Smart TV connected to internet

Check-In from 15.00 to 21.00 (you can leave your luggage before check-in time).
No smoking.
Unfortunately we cannot accepts pets and animals.
Below you can find Suites alla Giarina House Map [Pink (CAMERA 1): S.Maria Suite / Blu (CAMERA2): Isolo Suite]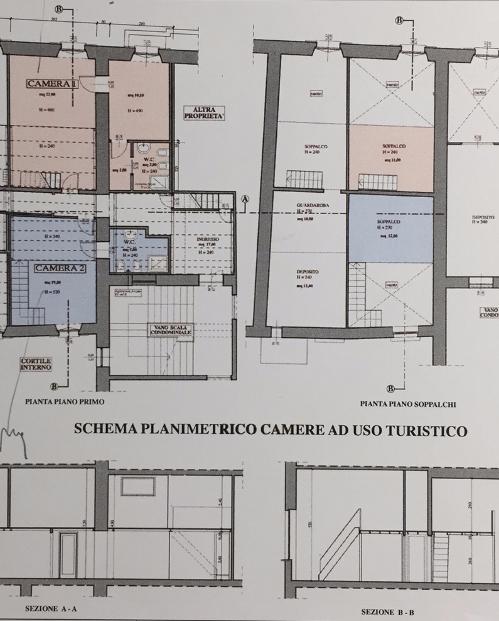 How to reach Suites alla Giarina
From Verona Porta Nuova Train Station: on weekdays (monday to saturday) take Bus 73. On Sunday and nighy take 91, 96 or 97 Get off at Interrato dell'Acqua Morta stop in Piazza Isolo.
From Verona Airport: take Bus 199 to Verona Porta Nuova Station (15 minutes). Bus is working every day.
From Airport, Bus 199 leaves at 05.35, 06.30, 06.50, 07.10, then every 20 minutes till 20.30, then every 40 minutes till 23.10.
As an alternative you can catch a taxi both from the Airport and from Verona Porta Nuova Train Station.
To come back to Airport: Bus 199 from Verona Porta Nuova Train Station to the Airport starting from 05.15, 06.10, 06.30, 06.50 then every 20 minutes till 20.10, then every 40 minutes til 22.50.
Phone Contacts:
Italian: +39 348 60 48 780 - Leonardo - Owner, President & CEO
English: +39 347 680 0 680 - Domenico - English Communication Assistant
Below you can download our Tourist booklet, full of useful info to organize your stay at Suites alla Giarina.
© Copyright Suites alla Giarina